What would Wilma and Betty drive?
It seems when it comes to cars, Wilma Flintstone and Betty Rubble had the right idea:
Powering vehicles with electricity is EVER* more efficient than with gasoline. Over 4 times more efficient! EVs convert over 77% of the electrical energy from the grid to power at the wheels. Conventional gasoline vehicles only convert about 12%–30% of the energy stored in gasoline to power at the wheels. The rest is wasted as heat and emissions. (* – EVER: Electric Vehicle Efficiency Ratio)
That's one reason EVs promise drivers a lower total cost of ownership (TCO) than internal combustion engine (ICE) vehicles. Another is the reduced cost of maintenance. (Consumer Reports recently compared popular plug-in cars to their conventional counterparts and estimated that owners of full battery and plug-in hybrid cars incur only half the repair and maintenance costs of a conventional car.)
According to Atlas Public Policy, TCO is lower for EVs than for their ICE counterparts, in each of four analyzed categories: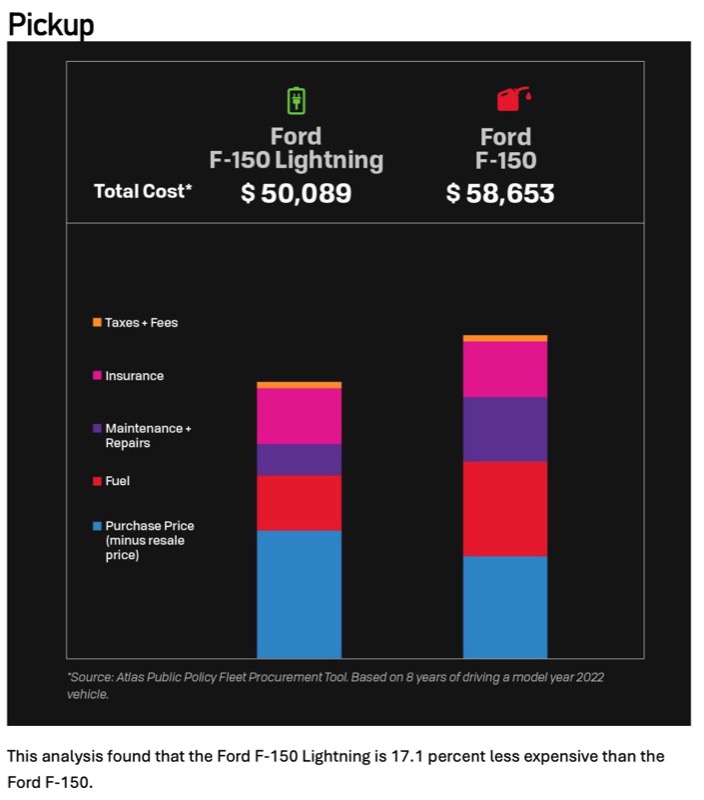 But what about the initial cost to purchase an EV? Though the average price for new electric vehicles is down by around $10,000 compared with 2022 (per Kelley Blue Book data), the price premium for EVs is a barrier for many when it comes to choosing an EV over its equivalent ICE model. On top of that, there are not yet as many affordable EV models as ICE models from which to choose. According to the U.S. Energy Information Administration, car buyers can shop amongst 297 non-hybrid ICE models, but only 55 EV models – and 70% of those EV models are in the higher priced luxury segment:
So it's good news that General Motors will display its affordable new Chevrolet Equinox crossover EV at the Detroit Auto Show. It will start around $30,000 (which is $3,400 more than the least expensive gas-powered Equinox). Chevrolet will also show off its entry-level Bolt (with new Ultium battery cells), electric Blazer mid-size SUV, electric Silverado pickup truck, and Corvette E-ray (0 to 60 in 2.5 seconds). Consumer Reports reports consumers will have dozens of pure electric models to choose from by the end of 2024.
Speaking of auto shows, Tacoma recently hosted the Green Transportation Summit & Expo, where EVs of all shapes and sizes were on display, including some powerful-yet-quiet trucks from Washington's PACCAR:
Whether it's a Chevy Bolt or a Kenworth T680E, driving an EV provides more savings in Washington than in any other state compared to a gas-fueled vehicle. To surge adoption of EVs in our state, we can make Washington the cheapest state to buy a zero-emission vehicle through expanded purchase incentives, one component of our proposed "SURGE" – Strategy for the Urgent Reduction of Greenhouse gas Emissions:
With clean, efficient, electric vehicles, we can charge our way out of the Stone Age.